Hiring a pro to perform gutter cleaning services is a great way to prevent damage to your gutter system and ensure continuous and effective drainage. If you've noticed that your gutters and downspouts have not been functioning properly, the culprit could be a backup of leaves, twigs, or other assorted debris. For fast, effective gutter cleaning services in the York area, contact the team at Clear View Cleaning right away. Prompt attention from a professional gutter contractor could mean the difference between a fast and easy fix or needing major repairs. Save yourself some money and a headache by choosing to work with the professionals on our team.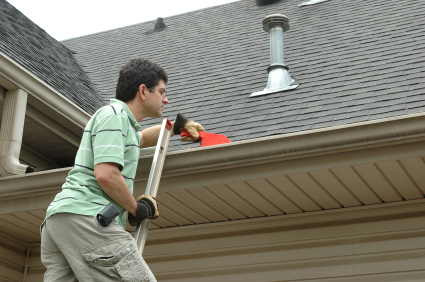 Staying on top of gutter cleaning maintenance can help prevent the leaks and overflows that can lead to:
Foundation erosion and cracking
Leaky basements
Roof damage
Rotting wood
Peeling paint
Siding damage
Mold growth inside and out
Mosquito breeding grounds
Landscape erosion
Because gutters are designed to direct rainwater off the roof and away from your home, it can present a real problem for you when they aren't working properly. All of the water that should be diverted can end up splashing or pooling, which could lead to all-around disaster for your structure. Just give us a call and we'll make sure to scoop the leaves or other debris out and unclog your downspouts.
Expert Gutter Cleaning Services
For maximum property protection, rain gutter cleaning service is recommended twice a year. Typically spring and autumn are good choices in order to remove the leaves that are prevalent during these seasons and to prepare your gutters for the heavy drainage demands brought on by precipitation. Of course, blockages can occur at any time, so if you notice sagging, visible debris, poor performance, or any other sign that your home may be in need of gutter cleaning service, please don't hesitate to seek professional attention from Clear View Cleaning.
Our dedicated gutter contractors are available to remove debris from gutters (paying special attention to joints and corners) and check and clear clogs in downspouts. Unlike some other rain gutter cleaning services, we will also haul away the gunk we pull from your gutters so you don't have to worry about disposal. We can even perform repairs or install gutter guards that can keep pine needles, leaves, and other debris from clogging up your gutters in the first place.
If you believe that your gutters require cleaning in order to regain or retain their function, it is always better to choose a professional over amateur or DIY work. A gutter contractor will be able to tell from a quick visual assessment the approximate location and severity of the blockage. Then the debris will be successfully dislodged and collected without causing any damage to your roof, siding, or the gutter itself. Professional gutter cleaning service is simply faster and more reliable than doing it yourself.
Contact Us Today!
Instead of putting yourself in harm's way by climbing up onto a ladder, pick up the phone or shoot us an e-mail. We can provide you with a free estimate for gutter cleaning services and arrive at the earliest possible time to bring you expert solutions. We proudly serve the York region and extend our services to both homes and businesses. Protect your property today by calling us for a free estimate!
At this time, Clear View Cleaning can not offer cleaning services for buildings higher than three stories. We apologize for the inconvenience.