Dirty windows can make your home or office building look unkempt and unattractive. But you don't have to let grimy windows stand in the way of a beautiful building. If you want your residential or commercial property to look its best at all times, contact Clear View Cleaning to schedule our top-notch window cleaning service. York-area residents can depend on our team for top-quality results when it comes to washing the dirt, water spots, and general grunge off of windows inside and out. When you need a professional window cleaning for your home or business, you can expect nothing less than the best from our experts.
Budget-Friendly Window Cleaning Business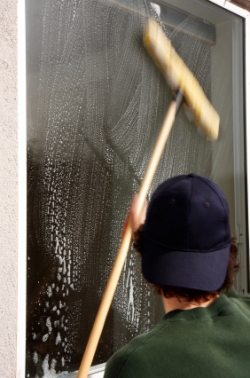 At Clear View Cleaning, we use careful techniques and precision tools to make your windows sparkle and shine. If you're trying to get your home ready for an open house or you want to impress your business associates, then call us and we'll give you a free estimate for our window cleaning service. No matter how dirty your windows are, our professional window cleaning experts will help get the grime off for windows that look great.
Hiring our window cleaning company to deal with your dirty windows can offer you a variety of benefits, including:
Increased sunlight—Sunlight is something that none of us can live without. Letting the sunlight flow into your home will offer you a lot more natural light, which can cut down on your electricity bills and make it easier for you to see what you're doing, whether you're reading or tackling chores. Increased sunlight in the office can also help build morale among employees and keep your energy bills low. So don't let dirt or streaks get in the way of your sunshine. Call Clear View Cleaning today and benefit from the efforts of our window cleaning experts.
A beautiful, flawless look—Making a good impression on a potential buyer or client is hard work when your home or office looks shabby. Hiring Clear View Cleaning will ensure that the windows on your properties have a flawless and streak-free look. Contact us today to set up your window washing service schedule.
At Clear View Cleaning, we offer customers comprehensive service. We will take care to ensure that all parts of your windows are clean, and we can even offer you screen cleaning services. If you want to learn more about our residential or commercial window cleaning options or get a free estimate, give us a call today. We'll be happy to help you in any way possible.
Clear View Cleaning does not perform window cleaning on any building exceeding three stories in height. We apologize for any inconvenience.